Lake Chini Resort is built landscaped with the natural surroundings which is peaceful and harmonious to the growth. The resort has two kinds of chalet to choose. The 'Balau' which is deluxe are for those who come in a family and prefer a bigger accommodation. There are two rooms in this kind of chalet. It houses a family bed and the other two single beds. The 'Meranti' which is standard are smaller in size and also houses a family bed and two single bed.For those who come in groups of ten, there is for your choice, a dorm in the form of double-decker beds. There is also a camping site available. You can then enjoy the freshness of the air. It is facing the lake.
Another site you can enjoy yourself is from the restaurant which can serve you with various dishes including fresh water fishes. The prices are moderate and is money's worth. We accept reservations and bookings.
Facilities
Accommodation
Restaurant
Jetty
Tourism package like fishing, lake tour, jungle trekking, night trekking, mountain climbing, lake crossing.
Karaoke
Telematches
Absailing
Water sports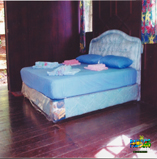 Location
The resort can be reached by using one of the three ways available.
First Route:
By water and experiencing the challenge, you can use the Kg. Belimbing way. There are numerous jetty's such as Chini lotus and in Kg. Belimbing itself. The one hour and twenty minutes journey requires the visitors to travel across the Pahang river followed by Chini river to the lake and resort.
Second Route:
For those who prefer to travel by own vehicle direct, especially for those who cames from the north, utilizing the Tun Razak highway (leading to Segamat), you reach Paloh Hinai and the straight to the resort. From the junction, you have to travel an hour before you reach.
Third Route:
From the south, especially from Negeri Sembilan, Malacca, Johore and Singapore can enter the junction to Felda Chini from Tun Razak Highway from Rompin/Segamat right to the lake.
Dinar Tiara Sdn Bhd
Chini
26690 Pekan
Pahang Darul Makmur
Tel: 609-477 8000/8008
Fax: 609-477 2008
E-Mail: Tasikchiniresort@hotmail.com
Website: http://www.lakechiniresort.netmyne.com.my