Bukit Tinggi is a small town in Bentong, ​​Pahang and located in a tropical rainforest with a height of 2500 feet above sea level. The highlands of Bukit Tinggi provide fresh, comfortable air and are ideal for relaxation after a long year of working. Located on a beautiful and classic hill, Bukit Tinggi offers its own unique twists and turns, and even inspires visitors. The temperature in the surrounding area is between 22 and 26 ° Celsius cool and cool.
Themed by a famous city in France, it is known as the Colmar Tropicale. The European-style buildings and lush tropical forests make it feel like you're in France. The yard decorations from the rocks as they are in Europe and there is live entertainment on the streets that gives a European-like feel. Around Bukit Tinggi there are many unique attractions for visitors such as Clock Tower, Rabbit Park, Golf Course, Horse trail, paint ball and many more.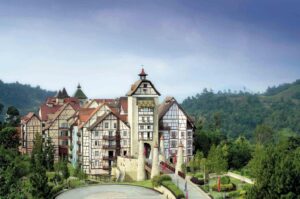 There is another Zen-inspired attraction, the Japanese Village consisting of the Japanese Tea House, the famous Japanese restaurant Ryo Zan Tei, the Botanical Garden, the spa and even the tatami. In fact, visitors can enjoy Japanese tea here as well as try the hot water at the spa provided. Golf enthusiasts will surely enjoy the 18 holes golf course at Bukit Tinggi & Country Club. Visitors can also go on horse rides in the area provided. For children, it is very convenient for them to play with the rabbits in the Rabbit Farm.
How To Get There
By Car : From Kuala Lumpur to Bukit Tinggi approximately 60 minutes and from Kuantan approximately 2.5 hours drive. 
By Bus : From Berjaya Times Square or KL Plaza Bukit Bintang, there's a shuttle bus operated by Bukit Tinggi Resort. It's run start from 10.00 am, 1.00 pm and 5.00 pm. There also bus operated by another company depart from KL Sentral and take about 1 hour to arrive.
Thing To Do
Relaxing

Rock climbing

Mountain biking

Face painting

Flying fox

Paint ball

Golf

Horse trail rides

Play with the animal at Animal Park

Tradisional Thai massage