The Batik cottage factory is synonymous with the East Coast of the Peninsular Malaysia. Here you can see how this unique wax printed fabric is produced in a variety of colours and designs. Batik is a method of producing coloured designs on textiles by applying wax to the parts to be left untreated.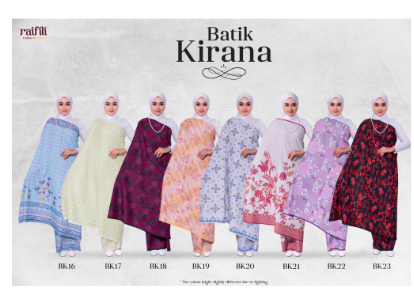 Pahang Hand-Woven Fabrics
Pahang hand-woven fabrics are created by using a traditional loom called 'kek Siam'. The designs are characterized by chequered patterns, arranged in such a way that the colour sequence can be changed intermittently from the warp (vertical thread) to the weft (horizontal thread). The price of each completed fabric would depend on the materials and thread used. Pahang hand-woven fabrics are used as sarongs, sampins, scarves and traditional attire. Today, the creation of these fabrics has been adjusted to fit the local and foreign designers' taste where the fabrics are designed for formal dinners, royal and wedding ceremonies and other important events. It has become a handicraft that is of high quality and demand. With the present acquired appreciation, Pahang hand-woven fabrics long over-due fame has arrived.
Woodcarving
One of the oldest traditional crafts in the country, Pahang woodcarvers take their inspiration from Islamic art and the rich local flora. Although some are decorative pieces, most have a more practical purpose. From houses to palaces, the craft is seen through the intricate designs on beams, supports, balustrades, doors, window shutters, as well as furniture. All bear testimony to the exquisite craftsmanship and enduring quality of the state's woodcarvers.
Handicraft Centres
BATIK RM
E-594, Tanah Putih Ferry
25100 Kuantan
Pahang Darul Makmur
Tel: 609-513 9631
Fax : 609-513 3345
Business Hours: 9.00 am – 5.00 pm
MALAYSIAN HANDICRAFT
Development Corporation Pahang Branch
Lot 11, Songsang Industrial Area,
28000 Temerloh
Pahang Darul Makmur
Tel: 609-271271
Business Hours: 9.00 am – 5.00 pm
GALERI TENUN PAHANG
Lot 1-47
Kompleks Teruntum
25000 Kuantan
Pahang Darul Makmur
Tel: 609-556 2344
Business Hours : 10.00 am – 6.00 pm
KRAFTLOGAM
24828, Batu 4
Jalan Gambang
27150 Kuantan
Pahang Darul Makmur
Business Hours : 9.00 am – 5.00 pm